When my basil plants started flowering and going to seed this year, I wanted to find out if basil can reseed itself or if it is better to collect the seeds, so I did some research. I called a local plant nursery to find out and spoke to a gardener with 5 decades of gardening experience and asked him whether basil will reseed itself.
Basil plants can reseed themselves and grow back next year if the conditions are right. However, the seeds can only withstand mild frost for short periods of time, so basil plants will not reseed themselves and grow back in most parts of the world since it gets too cold in the winter.
You can do some things to increase the chances of basil plants reseeding themselves and growing back, which I will describe below, but the best way to be sure you can grow the same basil next season is to collect the seeds.
In this post, I explain what I learned from the very experienced gardener about increasing the chances that basil reseeds itself and the easiest way to collect basil seeds.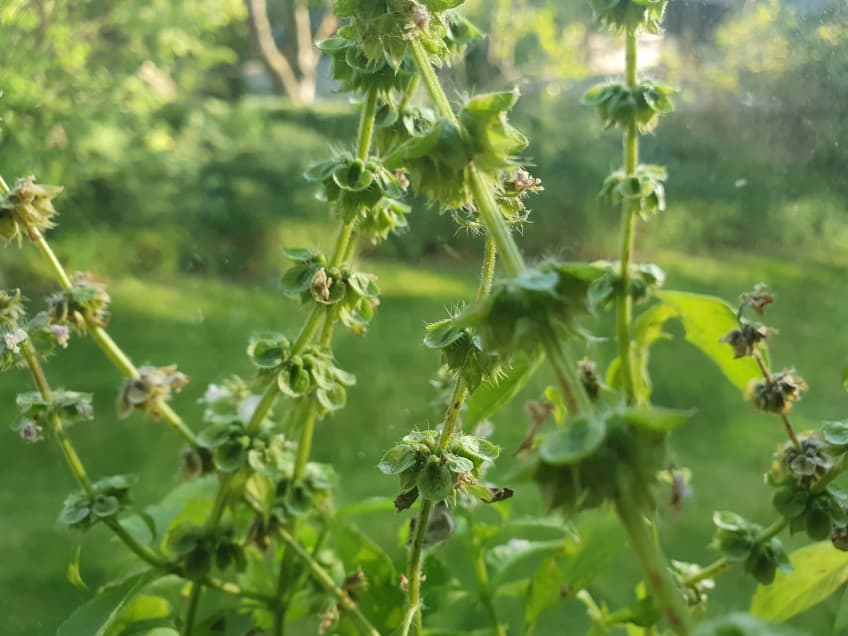 Will Basil Reseed Itself and Grow Back?
Most basil varieties are annuals, but some are perennials if they grow in the right climate. The annual basil varieties are planted in the spring and die in the late fall or the winter when the temperatures get below the freezing point.
Since most basil varieties are annuals, they have to be sown every year, but whether the plants will reseed themselves or you have to collect the seeds and sow them depends on where you live and how cold the winters get.
While basil plants are theoretically able to reseed themselves and grow back, it is unlikely to happen unless you live in an area that never experiences frost. Basil seeds can withstand mild frost for very brief periods of time, but anything more than that will kill them.
After a cold winter, many plants can grow back either by reseeding themselves or growing back from the roots. Unfortunately, neither the seeds nor roots from basil plants are very resistant to cold weather, so if they are exposed to anything colder than a few degrees below frost for an extended period of time, they will not grow back.
The expert gardener I spoke to when I wanted to learn about if and how basil can reseed itself told me the following:
Sure basil can reseed itself, but it requires very good conditions. I have been growing basil for decades and never seen it reseed itself, but in areas that are warmer in the winter, it is not uncommon for basil to reseed itself.

Arne, gardener with over 50 years of experience
As he said, if you live in an area where you don't experience frost or, at most, extremely mild frost, your basil plants are likely (but not guaranteed) to reseed themselves, but for the rest of us that live in areas where we do get frost, they won't, and our best option is to collect the seeds. I explain how to do this later in this article.
While it is unlikely that basil reseeds itself if you live in an area that experiences frost in the winter, there are some things you can do to increase the chances that it happens.
How to Make Sure Basil Grows Back Next Year
While basil can reseed itself and grow back, it is unlikely in areas that experience any frost. Still, the expert gardener I spoke to told me about a way to increase the chances.
Arne, the expert gardener, told me that a way to increase the chances of basil reseeding itself is to grow it inside a greenhouse as the temperature inside greenhouses generally doesn't get as low as outside. However, in areas with multiple months of night frost in the winter, this likely won't work.
Since basil can only reseed itself and grow back in warm climates, the best way to ensure your basil harvest for the next year (even if you live in a warm climate) is to collect the seeds from your plants. Below, I explain the easiest way I have found to collect seeds from basil plants.
Step-by-Step Guide to Save Seeds from Basil Plants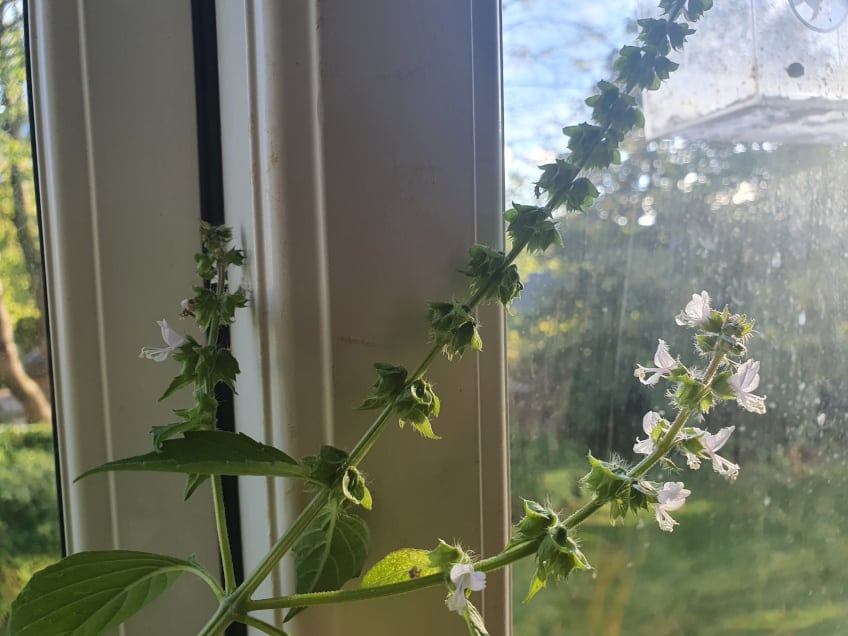 Collecting seeds from basil plants is easy and is the best way to make sure you can grow plenty of basil plants next year. It is essentially the only way to be completely sure that your basil will come back next year.
These are the steps to collect seeds from a basil plant easily:
Do not prune the plant once it begins flowering
Let the plant go through the flowering process
Cut off the entire flower once it is dry
Place the flower in a warm and dry place
Wait 1-2 weeks
Gently remove the dry seeds from the flowers
Store the seeds in a dry and dark place
I find it faster and easier to cut off the entire flower at the base rather than picking small individual flowerheads or seeds from the plant. I then place the entire flower somewhere dry and warm where they are in sunlight.
I have also learned that trying to extract each seed from the flowers one by one once they are completely dry can take a long time. So instead of doing that, the easiest way I have learned to do it is to pick up the dry flower between two fingertips, place it inside a small bag while still holding it at the base, and then shaking the flower back and forth until the seeds fall off into the bag.
Doing it this way will easily get most of the flower's seeds, but there may be a few seeds left in the flower that you have to extract one by one. If the seeds don't fall off easily when you do this, they are not dry enough.
Collecting seeds is a great way to ensure that you can grow lots of basil plants next year, but depending on what you want to get out of the plant, it may not be the right thing to do, and it is actually possible to stop basil from flowering which extends the period where it grows and produces leaves.
Below, I explain when you should and when you should not let basil go to seed.
Read My Complete Guide to Growing and Caring for Basil
I have written a thorough guide where I cover all parts of growing your own basil including choosing a variety, sowing the seeds, the best growing conditions, pruning, propagation, harvesting, storing, solving various problems, and a lot more. You can find the article on this link.